The BEAM Circuits Collection is a BEAM Reference Library site.
The hexapod walker circuit
A hexapod walker circuit by Wilf Rigter, Bruce Robinson, and Rich Piotter

---

This circuit has a long and storied history -- starting with an idea by Rich Piotter, then being honed and simplified by Wilf Rigter and Bruce Robinson. The final result does not show the necessary motor drivers (usually H-bridge based), but here's the high-level circuit: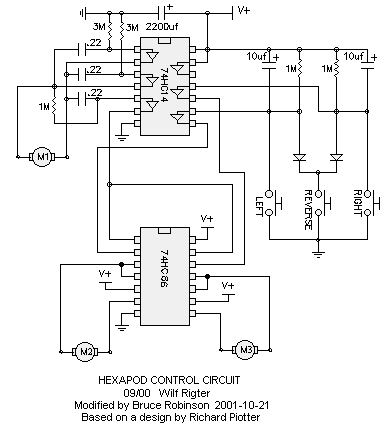 For more information...

Rich started this off with a circuit he posted to the Yahoo BEAM group on 9/25/2000 in post #5955. A few days later, Wilf presented his version of the circuit in Yahoo groups post #6020. Over the course of the next year, Bruce simplified things a bit, reducing pin count, yielding the circuit diagram above. This final version was unleashed upon the world indirectly, via an announcement by "Sparky" Garvin in Yahoo groups post #19029.
A modified form of this circuit (using a 74HC139 instead of a 74HC86) is discussed in post #21358.