The BEAM Circuits Collection is a BEAM Reference Library site.
The Vx2SE solar engine
Wilf Rigter's voltage-doubling solar engine

---

The Vx2SE is Wilf Rigter's solar engine design for higher-voltage loads.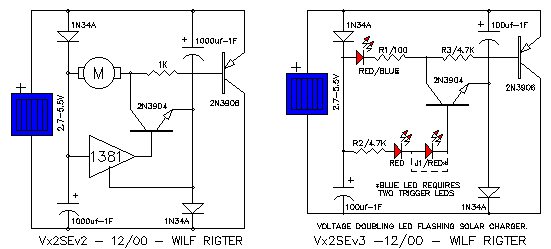 Wilf's description:
The Vx2SE is a simple discrete voltage-doubling SE for driving an LED. If the load is a red or green LED, J1 is used together with just one red or green LED for threshold detection (no 1381). For driving a blue LED use two green or red LEDs in series and may require a higher voltage (3V) solar cell. With 100uf capacitors the flash frequency is 2-3Hz and the R2 and R3 resistors may be omitted. With very large capacitors (0.01F and up) the frequency is much lower and the resistors can be optimized to stretch the LED "on" time. The Vx2 solar engines will self trigger but are also sensitive to a drop in light and will trigger from a shadow etc.

Also shown is Vx2SEv2 redrawn for clarity and has been tested with a lens motor. It should also be suitable with a pager motor or electromagnet for flag wavers, dragon flies, etc.